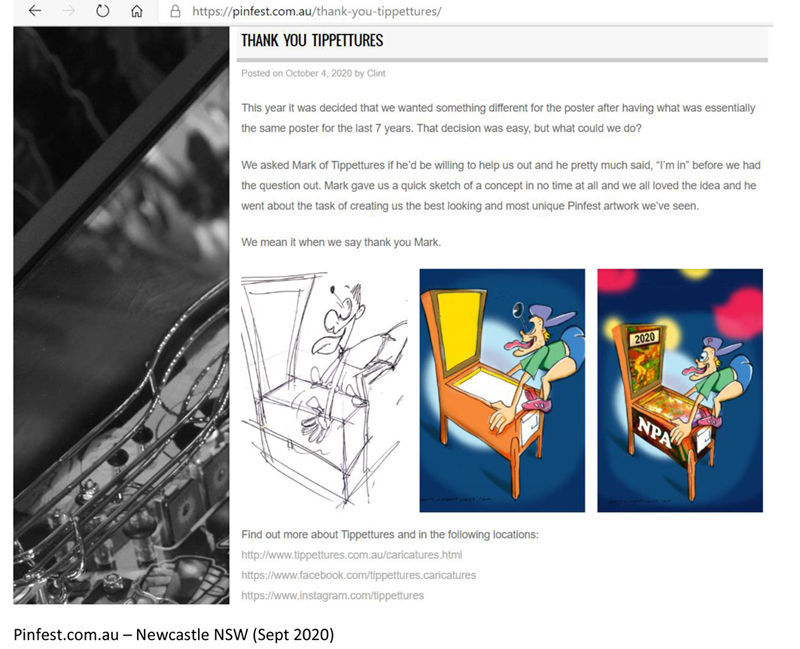 Thank you! We all enjoyed having you and we love our drawings! You Rock! You really 'got' us and are so skilled at working with people to relax them and extract their essence to make the image so good.
Michelle Culnane, Glebe NSW
(End of year event)
Just wanted to say a HUGE thank you for last night. We have had incredible feedback and sincerely appreciate the extra effort you put in with making the templates, they were just perfect.
Chantelle Mullin-Doyle
Entertainment Manager
The Play Agency
Mate, birthday card was awesome - he loved it. Thank you very much.
Shane Smith, Picton NSW
He absolutely loved it! All our family/friends thought it was fantastic and looked just like us! Thanks so much 10/10!
Alice and Ferg - a celebration for their 10th anniversary
I recently used Mark to prepare a group of cartoons for my golf group. Mark was amazing - I gave him one briefing and he "got it" instantly. He captured the images and spirit of the cartoons to perfection - and completed the project quickly and efficiently. He was a pleasure to work with and I would thoroughly recommend him to anyone. The cartoons were a huge hit with my mates - a hole in one as one of them put it!!
Trevor Loewensohn
A huge thank you for your incredible work and the effort you put in for Saskia's Beauty & the Beast themed party! I wanted something unique and quirky but also memorable for our guests and sure enough, it was a huge hit!! The guests were so impressed with your work and your patience with the little ones!
I cannot thank you enough and we hope to have you again at our next party!
Sandra Wilde
(5-year-old birthday party)
Thanks for being part of our wedding!!! You were a hit!! I should've had you for longer!!
Hine and Cameron, Sydney
Wedding reception at Pier One, Walsh Bay
Thanks for the caricature drawing class, Mark. We had a great day and learnt a lot!
Tina Hu, Sydney
(Caricature drawing class for an open air Hen's Party)
Just wanted to say a very BIG thank you for yesterday! Your work was amazing and a real big hit with the girls!!!! Look forward to the opportunity of using your services again in the future.
Paullette Azar-Tannous
Mum of 10-year-old Giaan (the birthday girl)
Thanks so much for Thursday's work at our office warming party - you were amazing! I will definitely keep you in mind for the next event with Oxygen8.
Claudia Klein
Marketing Manager – Australia
OXYGEN8 GROUP – Global Provider of Integrated Mobile Solutions
Mark Tippett is a genius. He was able to capture the character and unique qualities of each of our staff to create the perfect Christmas gifts.... .
Matthew Tisdale
JALCO GROUP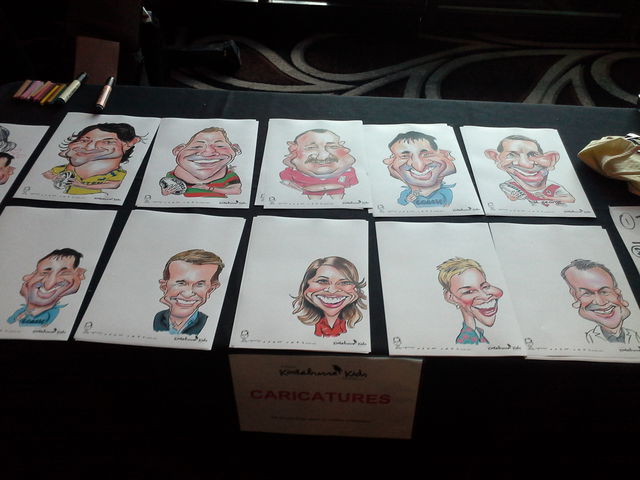 Mark from TIPPETTURES was a fabulous addition to our Corporate Charity Lunch this year. He worked tirelessly throughout the event, drawing some amazing caricatures for our guests which were the source of some funny stories and memories. I wouldn't hesitate in using Mark for our event again.
Loretta Passerini
Fundraising Manager
Kookaburra Kids Foundation Inc
Mark is an absolute pro. He was an outstanding conversationalist with conference delegates and his craftsmanship was just perfection. Each and every delegate walked away with a smile on their face (both real and on paper) and would return throughout the day to watch Mark work his magic. I would not hesitate to recommend Mark to anyone – it was a joy working with him.
Ellen Martin
Content & Marketing Coordinator
MAHLAB MEDIA
We used Mark Tippett for my daughter's christening this year. Mark was an absolute smash with the guests. While he was drawing quickly, the quality of his work was amazing. He was so friendly with the guests and worked for five (5) hours straight to make sure he drew as many guests as possible. Guests were so excited to walk away from our function with a unique memento of the event. I could not recommend Mark enough!
Deana Hanna
Mark is fantastic - he has the wonderful skill of being able to capture the 'essence' of people in a brief meeting. I invited Mark to my 60th birthday party to draw the guests. He was fabulous. He had people lining up for their caricatures and it caused a great sensation. Everyone loved it and I would recommend Mark and his crayons to everyone.
Kathryn Leaney
Absolutely loved Mark's caricatures. Mark attended our Christmas function as entertainment and everyone was very happy with the caricatures. His cartooning was great and our staff thought he was a hit. Mark was fast and efficient and the drawing was exactly what we wanted. Thank you for such a great experience.
Silke Dietzel
Management Accountant
DAVCOR GROUP
A great value add to our event. Having the caricaturist Mark as our entertainment element for the evening, was fun for our guests and a talking point for the evening. Thanks for a great night!
Victoria Squire
INVISALIGN
Wollongong UniCentre has had an ongoing partnership with TIPPETTURES over the past several years. The artists never cease to amaze the students and staff of UOW with their skill, flair and enthusiasm. We look forward to working together again in the near future.
April West
Marketing & Communications Coordinator
University of Wollongong
TIPPETTURES workshops have been a fantastic youth engagement activity for our youth health centre. Mark's well organised workshops are delivered in a flexible and engaging way allowing young people of a variety of ages and skill levels to enjoy participating.
Peter Murray
Project Officer
headspace Illawarra Youth Health Centre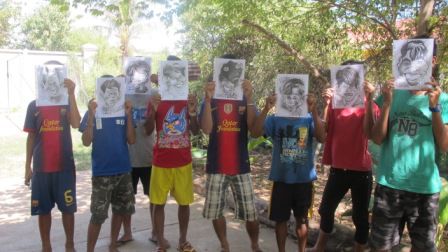 These are the some of the drawings I donated to the children of Aussie Tara Winkler's Cambodian Children's Trust (CCT). With thanks to Daisy Gibbs, Project Coordinator, with translation. CCT is a non-profit NGO working to break the cycle of poverty in the Battambang region of Cambodia. They run a range of programmes supporting vulnerable and underprivileged children and families. This is what the boys and girls had to say:
"So beautiful, and very funny. My face looked so very weird, but still like my face. It made all of the children laugh so much that some of them cried."
Sinet Chan
"Honestly, I was a bit scared when I saw my face at first. But then I laugh and laugh so much. I put the drawing next to my photo and everyone knows that it is me."
Pia Samsok
"I like this kind of drawing a lot, it is very interesting. Sometimes it looks like my face, but sometimes I look crazy. I have never seen drawings like this before."
Nyeit Nhem
Children from the Cambodian Children's Trust.
Mark has a wonderful gift of capturing both the personality and vulnerability of the subjects. Fab strong colour applied in edible like chunks of paint.
Annette Hardy, Expressionism 2017 exhibition
Your painting of my nanna brought tears of happiness. You really captured her personality and her aura and you didn't even know her. You've left me speechless. It's something my family and I, especially my pop, will cherish forever.
Jesse Vella, 2015
My brother bought me the Peter Garrett painting (on Grays Online) - I love it. It is just awesome. I love the relative size of his hands because they represent the power he portrayed when I was growing up and he influenced so much. Thanks for painting it. You have touched my life forever.
Lisa, 2015
They (the portraits) look great. Our friends will be delighted and will be great talking point. I look forward to seeing your next efforts somewhere and thanks again, pleasure to do business with you.
Greg Edwards, 2016
(Recreation of Bald Archy Prize Portrait)